Scottsdale, AZ – April 30, 2022 – Brander Group Inc was honored with the Gold Stevie® Award and named Company of the Year in the Telecommunications category in the 20th Annual American Business Awards®.  This adds to the many nominations and wins that Brander Group has achieved for excellence in business, culture and revenue growth.
Brander Group joins a prestigious list of previous Gold Stevie Award® winners including IBM, AT&T Business, Forbes, T-Mobile, Fidelity Investments, Home Depot and many other reputable global leading brands.
As an additional Honor, Brander Group's Operations Specialist Kelli Weaver was honored with Bronze Stevie® Award in the Support Staffer of the Year category.
More than 3,700 nominations from organizations of all sizes in virtually every industry were submitted this year for consideration in a wide range of categories, including Startup of the Year, Executive of the Year, Best New Product or Service of the Year, Marketing Campaign of the Year, Thought Leader of the Year, and App of the Year, among others.
There were over 230 global professionals that participated and helped select winners in a variety of different categories for this year's Stevie Award winners.  Most of the judges commented on the amazing growth numbers and efficient execution the team at Brander Group was able to achieve. The judges also specially commented on Kelli Weavers excellent client centric performance, dedication, and ability to successfully manage thousands of IPv4 asset transfers for enterprise clients all over the world.
"We are thrilled to have been nominated and won in 2 different categories for this year's Stevie Awards. It was even more of an honor to see that Kelli Weaver was awarded for her hard work throughout the years.  We appreciate and thank the entire team for their efforts as well" – stated Jake Brander, President of Brander Group.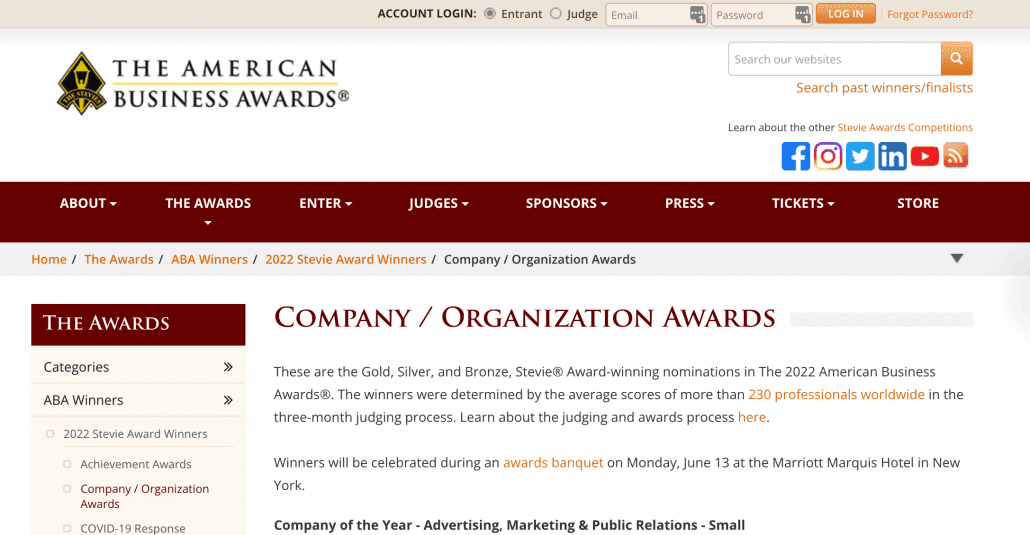 About the Stevie Awards
Stevie Awards are conferred in eight programs: the Asia-Pacific Stevie Awards, the German Stevie Awards, the Middle East & North Africa Stevie Awards, The American Business Awards®, The International Business Awards®, the Stevie Awards for Women in Business, the Stevie Awards for Great Employers, and the Stevie Awards for Sales & Customer Service. Stevie Awards competitions receive more than 12,000 entries each year from organizations in more than 70 nations.
Honoring organizations of all types and sizes and the people behind them, the Stevies recognize outstanding performances in the workplace worldwide. Learn more about the Stevie Awards at www.StevieAwards.com/ABA.
Brander Group's Stevie Ranks:
Gold Stevie – Company of the Year
Bronze Support Staffer of the Year
#1 in Telecommunications
#1 in Arizona