The IPv4 transfer market was born when ARIN, RIPE and APNIC created policy to allow IPv4 address to be transferred from one owner to another.  According to the transfer logs from the three internet registries, there have been over 360 million IPv4 addresses transferred between private parties since 2016
With nearly 10% of the globally routable IPv4 addresses already recovered and transferred, the global IPv4 addresses shortage is more apparent now than ever before.  We have yet to determine how many more IPv4 addresses are left to recover or transfer, so it is important to plan accordingly as network and hosting providers create their 3 to 6 year growth strategies.
As it stands today, global IPv6 adoption is only 38%.  Compared to 21% in 2018, the 4-year growth rate demonstrates around +4% per year growth.  Even if IPv6 adoption alone was enough to impact the significance of IPv4 usage, we would have over 5 years before we surpass over 60% adoption.
Now that we provided a light history on the IPv4 market, let's discuss the current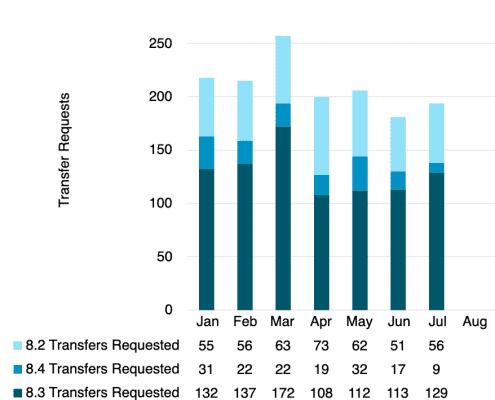 IPv4 transfer trends.  As of July 2022, transfer requests increased to 129, which demonstrates an increase of +17 over the previous 3-month 110 transfer trend.  Compared to the yearly average of 129, it looks like we are trending in the right direction.
Just last month we wrote about the release of additional Rural Digital Opportunity Fund (RDOF) funds to U.S. based broadband providers. The government allocated over $20 Billion of subsidies to help network development across rural American communities. This could start a positive trend of requests for IPv4 addresses through the end of the year.   We will have to look at next month to determine if the IP market is starting to see a positive trend, or if this was just a one-off event.  Stay tuned for our expert analysts advice to help our viewers plan their strategic rollouts in 2023.
As it stands today, Brander Group has the following IPv4 subnets listed.  If you are planning for growth in 2023, it is a good time to buy while prices are stabilized.
| | | |
| --- | --- | --- |
| ARIN | RIPE | APNIC |
| 2 x /16s | 1 x /16 | 1 x /17 |
| 1 x /17 | 1 x /17 | 1 x /18 |
| 2 x /18s | 1 x /19 | 2 x /20s |
| 3 x /19's | 1 x /20 | 1 x /21 |
| Multiple x /20s – /24's | Multiple x /22s – /24's | Multiple x /22s – /24's |